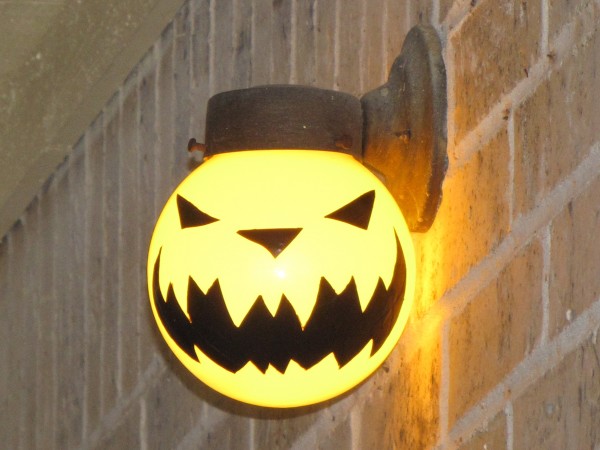 I was late off the block for Halloween this year, and didn't really plan to celebrate, but the sudden attention recently afforded to my 2009 costume on MAKE's Facebook page inspired me to sponge Cthulhu off and pass out candy on Monday night. My last-minute decor consisted of painting "Happy Halloween" on the door in bloody red washable tempera and making my round porch light up like a Jack-o'-lantern. I use orange "bug light" CFLs year-round, anyway, so all I had to do was add black patches for eyes, nose, and mouth. I'm pretty pleased with the result.
I drew the face on, free-hand, with a Sharpie (the image I used for inspiration is in the gallery, below), then taped over it with bits of black electrical tape trimmed to the lines with a hobby knife. Electrical tape works great for this because it has some elasticity and can be smoothed flat on a round surface.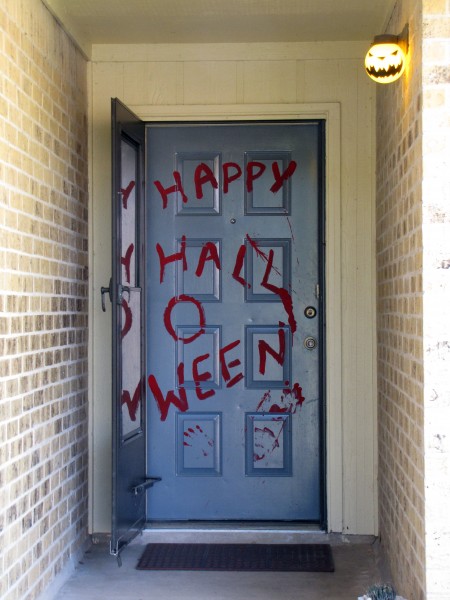 \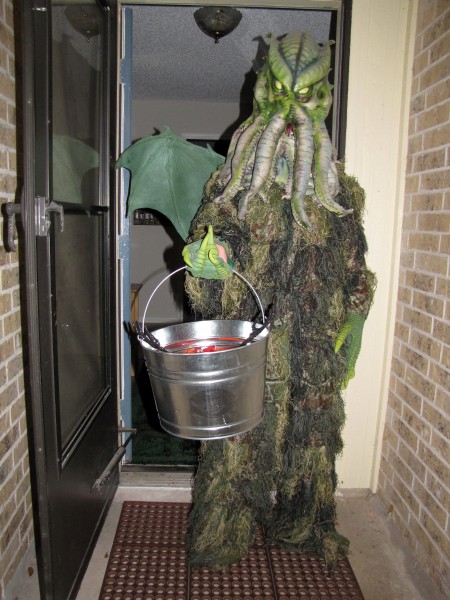 The costume was a big hit. One young man, dressed as a super hero, turned and ran when I opened the door. His mother intercepted him at the edge of the porch and veered him back around to face me, and I immediately took the mask off and apologized, saying, "I meant to scare you, but not that much." His mother laughed, thanked me, and assured me he'd be fine. His little sister, meanwhile, was apparently unphased, taking advantage of the opportunity to hit up the candy bowl for seconds and thirds.