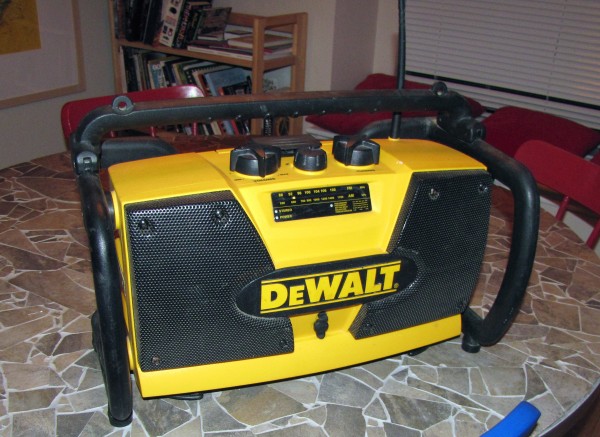 This DeWalt DW911 jobsite radio was out by the trash bins on bulk pick-up day in my folks' wealthy Austin suburb a couple months back. It's got a nice AM/FM stereo receiver with an AUX input, decent speakers, and a port in the back to charge a DeWalt or DeWalt-compatible tool battery pack. If it's not plugged into the wall, it can run off the battery pack instead of charging it. All that, plus DeWalt yellow. For which I am a complete sucker.
Anyway. Somebody threw it out, and I grabbed it. These cost like $100, new, and I've been eyeing them in the big orange store for years but could never really justify the expense. Unsurprisingly, this one didn't work at all when I plugged it in. Getting the case open was a bit of a trick; it turned out to be glued shut along the seam. I took all the obvious screws out and would've wasted a lot more time and done a lot more damage looking for the "hidden" screws if some thoughtful soul hadn't figured out the glue thing and taken the time to share their discovery on FixYa. Thanks, man! A few strategic whacks with a rubber mallet opened it right up.
Anyway, once I got it open, it turned out to be a fuse. I love it when that happens. And I even had the right spare on hand in my parts box. Happy.